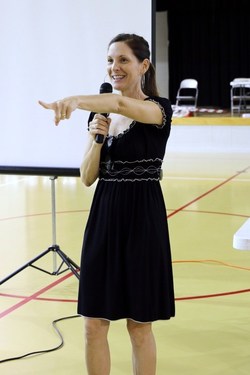 ---
​Since so many readers have questions regarding my writing life, publishing angst, and the writing world at large, I thought I'd offer some answers. My own take on things, of course!
1.
Why is "Tall" your middle name?
Actually, this is my maiden name. I originally wanted to keep it after I got married, as my father did not have any boys to carry it on. But as a gift to my husband on our wedding day, I took his last name, and plunked "Tall" in the middle. It took a while to get used to!
2.
Which do you prefer to write, Young Adult or Adult?
To be honest, I love them both. And play writing...and screenplay writing...and hopefully, one day, a musical...but there aren't enough hours in the day to do it all. Right now I am working on my fifth YA. I am a slave to all the adult and teen characters in my head, and they fight for visibility, so whoever wins...
3.
Who are your favorite authors?
I am not a reader who finds an author she likes and then devours everything he or she has written. I dabble when I read, as well as when I write. My tastes vary according to my mood, so who knows what I'll be reading (or watching on Netflix, or listening to on Pandora)? I inhale gobs of classics with the students I tutor, and at night before bed I read for fun. But here are a handful of books that changed me in some way or another:
The Five People You Meet in Heaven; Dandelion Wine; Chew on This; Outliers; Uncle Tom's Cabin; The Giving Tree; To Kill a Mockingbird; SPEAK; The Fault in Our Stars; Out of the Dust; To See Every Bird on Earth
;
anything by Doctor Seuss
...OMG, I could be here all day...
4.
What is the hardest part about writing?
This answer is three-fold:
1) The waiting game
. It seems like it takes FOREVER to hear back from publishers. Though I have learned to be patient. Er, at least I don't pace, or chew my nails anymore.
2) The physical pain.
My back, my neck, and my wrists often hurt. I try to counter-balance by working out at the gym five days a week, going on bike rides, and stretching every day. I recently bought a standing desk, and that seems to be helping a bit.
3) I had to add this, since I am now in the throes of self-publishing, and really, I had no idea how hard it would be to do one's own marketing.
Thirty hours of marketing a week just to keep my name out there. It's crazy. The plus side is that I get to meet my readers face to face at book signings, and nothing, except for writing, beats that! The downside is that I spend way too much time in front of the computer. Ugh. My life is filled with irony!
5)
How is it possible you've never had writer's block?
I do not know--
it's a blessing and a curse! At least ten new story ideas come to me each week. I only write down a fraction for possible later use. I head to my office Monday through Thursday after the gym (around 11) and start writing. The voices want to be heard, and I am the conduit. The day they stop vying for attention is the day I switch to another career. If you suffer from writer's block, my advice is take a long walk, or a drive, or a shower, or paint some trim in your house. When you do something by rote, ideas seem to flow more freely. Just be sure to write down your ideas or they will be lost forever.
6)
What's the best advice another writer has ever given you?
If I may quote Anton Chekhov, a playwright, who said (not to me personally, though that would have been awesome), "Don't tell me the moon is shining; show me the glint of light on broken glass." All of my writing teachers and mentors kept saying, "Show, not tell" when it came to writing, but it was a concept I had difficulty with. Then I found this quote, and it clicked!!
7)
What would you be if you weren't a writer?
What I used to be: a high school or college English teacher. I love being in the classroom, and in front of a crowd. And young people are the most fun to teach writing to because this form of communication seems to unearth some pretty awesome stuff!
8) What do you do when you're not writing? When I am not writing, I am thinking about writing!! I also tutor others, do research, decorate my Victorian home, hang with friends, hang with hubby, hit the gym, read, sail on the river, travel when I can, always with a book in my backpack, of course...
9) What kind of teenager were you? If my mother were still alive, she and I may disagree about this. But I was a very deep-thinking, attention-seeking, fun-loving, procrastinating person. In that order! I was involved in theatre, played the violin in the school orchestra, sang in the chorus, jumped around as a cheerleader, and fell in "like" with every cute boy who gave me a nod. An overachiever in the arts, an underachiever in the academic realm. I did some stupid things even though I was not a stupid person. And I did some mean things, even though I was definitely not a mean girl. I loved (and still love) making people laugh, and often got yelled at in class for being too talkative. But I had a big heart, even though it wasn't always in the right place. I guess I was the typical teenager: confused, but always positive I would eventually find the path that was right for me.
10) What was your major in college? I moved to California on my own at the age of nineteen to become an actress. I worked as a cocktail waitress for years while putting myself through private acting classes. I did a ton of movie work, but nothing that ever panned out. At twenty-five, college beckoned. I received my Bachelor's in Theatre Arts (paid for it all l myself, I will add). HOWEVER, needing three more units to graduate, I took a novel-writing class that changed my life forever. Although I still love being onstage, writing is my calling. Being a theatre major taught me to entertain and speak with confidence in front of a crowd, so even though I am not an actress today, I am grateful this was my major. Hopefully, I will get to use some of that training on future book tours and interviews!
11) Of all the books you've written, which is your favorite? That's like asking a mom which one of her kids is her fave! Sorry, don't want to give any of my characters low self-esteem. Let's just say I love them all equally--even the ones I kill.
12) Do you ever go to schools or conferences to speak? I love sharing writing ideas with writers of all levels, from kindergarten kids, to critique groups, to conference-goers. I once spoke on behalf of a local artist who incorporated storytelling into her exhibit. If you are interested in having me speak at your event, please feel free to email me. I can't promise it will fit my schedule, but I will do what I can! If you are a local teacher, librarian, or school administrator, I will speak for FREE!!

13) Physical book or ereader? Physical book absolutely. I love tucking a paperback in my purse, or in the pocket of the airplane seat. I love rereading sentences or whole chapters while licking my finger to turn the pages. I love the smell of a new book. I do have a Kindle so that when my books are formatted into digital form, I can read them for typos. But other than that, really, nothing is better to me than a real copy. Always and forever.

14) Is there such thing as overnight success? NO!!!!!!!!!! Ask anyone who has "made it" in any career. Success means different things to different people, but I believe I am speaking for most when I say that to find your own success, you not only have to work hard, and work smart, but work for a long, long, long time. Years. And maybe more years. Diligence. Perseverance. Passion for your craft. Love for hard work. Time to work. Time to get better. Belief that you will eventually be taken seriously. The tortoise and the hare? You'd better be prepared to be the tortoise.
Anything else to share? Nope! You know about as much as my husband! LOL.
For more tid-bits, check out this
Wordpress author interview
!